A multicultural and intercultural North African Arab Woman musician and artist, Marwa Belhaj is a Resident at Movement Radio, and dedicates her work as a booking agent and curator at LYL Radio to promoting Arab artists through her show 'Khenjar.' Her sonic compositions almost effortlessly amble the line between what is genre-bending, gender-bending, and genus-morphing and what is a discerning and gratuitous ode to the cultures Belhaj identifies with.


Below is our interview with the Tunisian artist, along with a selection of images by Tunisian visual artist, photographer, and film director Tayachi Bachir, exclusively for Sonduke Magazine. Similar to Belhaj's work in sound, Bachir's photographs of the artist for Sonduke reflect the archive of his work: "attempts to capture the ordinary and transform it into the extraordinary, preserving the raw aspect of the emotions felt then and now," explains Bachir.
Below is our digital conversation with Marwa Belhaj Youssef
Identity

Malak Al-Suwaihel: You're often introduced as a "Tunisia-based artist," and at times a North African, Arab musician. While such categories may seem prescriptive—as a musician that has branched out beyond the Arab world—do you see yourself as a transnational and/or multicultural artist? Do you find yourself consciously inserting your cultural background into your music?
Marwa Belhaj Youssef: As we all know Tunisia is geographically situated in North Africa. But it wasn't until the 7th century AD when it became demographically an Arab country. Arab Muslims conquered all of Tunisia and brought Islam and Arab culture to the local inhabitants. Since then Arabs became the majority of the population and meanwhile the Amazighs have suffered the greatest forced Arabisation in history. Some of us still consider ourselves Amazighs rather than Arabs. Before my country had achieved its independence, France took over the Beylical government.

So, for me, Tunisia is rooted in different cultures and ethnicities which, inherently, makes me a multicultural and intercultural North African Arab Woman. I'm also a transcultural person due to the musical heritage of North Africa. For example, all Tunisians have grown up with some sort of ritual and traditional practices like Stambali, which is a dissociative possession and trance in a Tunisian healing dance. It's important to note that this therapeutic, ritualistic dance music was established in certain regions of Tunisia by populations from sub-Saharan Africa. Stambeli has a connection with Sufism by its spiritual dimension and we still use the softest version of it for ceremonies using different instruments. The Tunisian trance-dance was practiced at first as a form of healing and for demonic exorcisms by Tunisian Jews. The healing process was made by an ascending tempo of rhythmic music and a corresponding increased speed of the participant's movements of their head and limbs.The orchestra consists of Black musicians playing a large tambourine, castanets and bagpipes. The female patient (in fact, Stambali is practiced only for and among women) is enticed to dance until the point of complete exhaustion.

My podcast for Boiler system mix series is the right answer to all of this, if you really look at my choice of sounds, the description, the atmosphere and the visual that I've chosen, you will understand how I can be a multicultural and transcultural artist who highlights the violence and the beauty of sounds as I navigate across cultures, time, and borders.

Marwa Belhaj Youssef | Boiler Room Athens: Club Amane
MS: In Mille [online publication], your music is aptly described as follows:
"The young DJ's oeuvre is a fusion of the electronic and the traditional, resulting in a refreshing and completely unique sound."
And in other publications, your music is described in the derivative and hackneyed manner of "West meets East."
Whatever the merit or inaccuracy of these descriptions, how would you describe your sound?
And do the sentiments of identity, experiential memory, and authenticity come into play in regards to your cultural background and artistic process?


MBY: It depends on many things actually. My selection could be based on how I feel inspired. Many factors make me pick the right sounds that will fit the theme of the show which is important for me to be flexible and adaptable. I'm always trying to give my selection the touch of identity because it's so emotional and soulful to feel the direct deep connection between me and the sound. When it comes to roots, it hits so hard.
MS: Where do you find or mine for inspiration when composing?


MBY: Inspiration is always around us. Sometimes we ignore the smallest things that happen in our daily life that can actually inspire us. For instance, inspiration could come from an impromptu conversation with a random person, it also could be a sickness, a problem, a movie, or a sound, and it's the attitude of our minds on that moment that inspiration can be drawn from. Therefore we should be very intentional to get inspired. Recently, I have been experiencing some of the biggest feelings of fear due to events in my personal life. This constant foreboding feeling keeps hitting me hard until it becomes my only inspiration. The fear of losing hope but I won't.

MS: Do you find yourself gravitating towards a particular instrument or sound? Any that you have yet to experiment with? Instrumentally, can you describe your process? In other words, What tools and sounds do you find yourself recurrently using or are influenced by when composing your music?

MBY: I actually don't have one specific instrument that I would like to use, because I believe that you can get the perfect sound using different instruments in many different ways. It depends on your taste and on what your ears require. I used to play guitar when I was a kid but now I only use Ableton which provides us with many software instruments and multiple types of synthesis.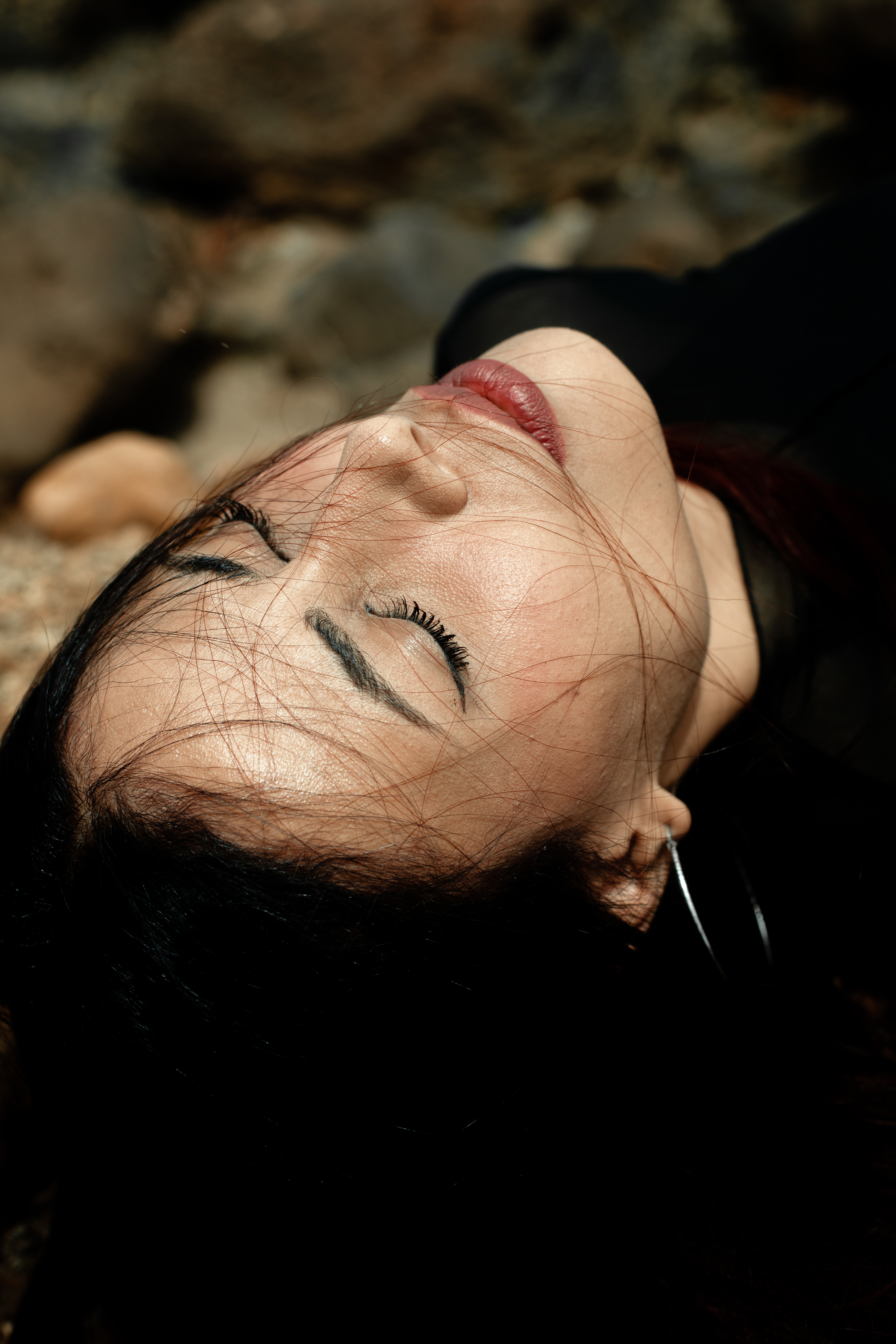 Courtesy of Tayachi Bachir (SONDUKE EXCLUSIVE)
MS: I understand that you have a show on LYL Radio called, KHENJAR, where you act as booking agent and direct your efforts towards supporting Arab artists. Can you tell us more about this conscious effort to create opportunities for Arab artists? How did you develop this show? And, I'm curious, where did the name come from?
MBY: I've been working with Lyl Radio as a volunteer booking agent in order to support Arab artists and it was my suggestion because I love to see Arab artists playing on digital radios. The sounds aired on digital radios can help us to get more opportunities to share our music and to get booked to play live. Some Djs ignore the impact of getting many appearances on this type of radio. I started from there and I'm still playing on radios because I love hearing myself aired across the world. I've played on NTS in collaboration with Armani Exchange and my mix was aired at all Armani Exchanges stores and that's so good to be heard in real life through digital appearance.


I chose Khenjar as a name for my show because Khenjar is a really violent and beautiful instrument / weapon just like the sounds that I want to hear or play through my mixes ( violence/beauty). Khenjar is a traditional knife that men from Middle East and South Asia use for ceremonies but still this dagger is considered as an Arab weapon because it originated from Oman and my show was dedicated to Arab artists.
MS: In September of 2022 you were a part of Mophradat's 'Less Dependent Music' retreat at the Matrix Music Studio in Athens, Greece. Along with your notable peers of Arab women producers, sound engineers, and musicians you mentored aspiring Arab women electronic musicians with the aim to advance "the audio production skills of Arab female producers."

What was that experience like? What was the reception of those that participated? As an artist, what's the significance of collaborating and interacting with like-minded artists?



MBY: I loved that experience so much. I had the opportunity to improve my knowledge/skills and to learn mastering from two special and genius people who are Heba Kadry and Josh Bonati. Mastering was always a technique that interested me for a very long time. On every release I've always checked who mastered it because this final step has to be well done in order to keep the identity of the producer and to process the mix into its final form to get ready for distribution. I mean it's so important that you will be the last person who's going to give the quality sound to the first ear.

I met very talented artists during this workshop and I had so much fun working with them.Shout out to my favorite mastering engineers Heba Kadry & Josh Bonati and I still can't believe that I met them in real life. I'm also honored to meet and work with Sandy Chamoun, Elyse Tabet,Sarah El Miniawy, Deena Abdelwahed and Sarouna Mushasha . Special thanks to the Mophradat team for this opportunity and for the good work.

MS: Can you tell us more about your residency at Movement Radio (Athens)?
MBY: In 2020 I became a Resident Artist at Movement Radio which is a radio station based in Athens and produced by Onasis Stegi. I'm so grateful to be part of it due to their interesting approach in order to share and promote artists from the Mediterranean and beyond through articles, mixes and events. I've been inviting many artists from many countries to promote both my work and theirs. Sharing my show with different artists made me more flexible and adaptable which is so challenging for me to dig multiple styles of music and keep myself musically updated. Huge thanks to all my guests for accepting my invitation, for sharing the music through mixes or live recordings.

Shout out to the Movement radio team and special thanks to Voltnoi & Quetempo, Vassilis Panagiotakopoulos, Nikki Georgiou, Dimitris Koutsoumpas and Anna Vakontiou for their professionalism.

MS: You've been invited by Boiler Room Athens, and featured on NTS Radio, Noods Radio, Intergalactic FM, Radio Al Hara, Root Radio and Radio Flouka. What's the experience like for you as an artist playing on radio or live in front of an interactive audience?


MBY: Playing on digital radios was my first alternative to share my favorite music. I've always loved being aired through radios and receiving online feedback. Plus, radio gives us the opportunity to play with our favorite musicians.

Playing from home is super chill. You are at your place so you can feel however you want and play whatever you want but playing live in front of people wasn't actually that easy for me at the beginning as a very shy person , especially at dance club events. There, you need to connect and interact with people and show them the possible best version of yourself by partying, celebrating in a very successful way. Your energy has to be well calibrated to make people feel what you actually feel about music.

MS: What's next for Marwa Belhaj Youssef? What can we look forward to?



MBY: Mastering is what I'm trying to achieve right now. A part of music, I'm open to experiencing different types of art and this is what I will do. Challenging myself is what I most love about myself. I will try to learn and have different skills to allow myself to keep on progressing.